Ingredients:
250g block cream cheese – softened
3/4 cup caster sugar
3 eggs
1 ½ teaspoons peppermint essence
Green food colouring
150g butter, chopped
300g Davies real dark chocolate buttons, chopped
1 cup plain flour
50g Davies Peppermint Cream soft centres, diced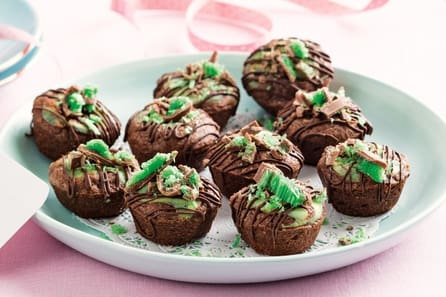 Method:
Preheat oven to 180C/160C fan-forced. Grease two 24-hole, 1 1/2-tablespoon-capacity mini muffin pans. Line base and side of holes with 1.5cm x 8cm strips of baking paper.
Using an electric mixer, beat cream cheese and 1/4 cup sugar until smooth. Add 1 egg. Beat until combined. Add essence. Beat until combined. Tint green with food colouring. Spoon mixture into a piping bag fitted with a 5mm plain nozzle.
Place butter, 200g chocolate and remaining sugar in a saucepan over medium heat. Stir for 5 minutes until melted and smooth. Remove from heat. Transfer to a heatproof bowl. Cool for 10 minutes.
Whisk in remaining eggs. Add flour. Whisk to combine. Divide mixture among prepared pan holes (about 2 teaspoons per hole). Push piping nozzle just under the surface of brownie mixture in 1 hole. Pipe cheesecake mixture into brownie mixture until the hole is 3/4 full. Using a skewer, swirl mixtures together. Repeat with remaining cheesecake mixture in remaining holes.
Bake for 12 minutes or until just firm when lightly pressed. Stand in pans for 10 minutes. Transfer to a wire rack to cool.
Meanwhile, place remaining chocolate in a microwave-safe bowl. Microwave on MEDIUM (50%) for 2 minutes, stirring every 30 seconds with a metal spoon, or until melted and smooth. Cool for 5 minutes. Drizzle each brownie with a little chocolate. Sprinkle with Davies Peppermint Cream soft centres.
Set aside for 30 minutes or until chocolate has set. Serve.
Our address
181 Kingsgrove Rd
Kingsgrove
NSW, Australia