Ingredients:
125g butter, chopped
3/4 cup (185ml) water
1 cup (215g) caster sugar
1 tablespoon instant coffee powder
50g Davies real dark chocolate buttons, chopped
100g Davies Chocolates coffee cream soft centres, cut into quarters
1/2 cup (75g) plain flour
1/2 cup (75g) self-raising flour
1/4 cup (40g) cocoa powder
1 egg, lightly whisked
1/2 cup (125ml) freshly brewed espresso
1/2 cup (100g) caster sugar, extra
½ cup Davies Chocolates coffee cream soft centres, cut in halves to decorate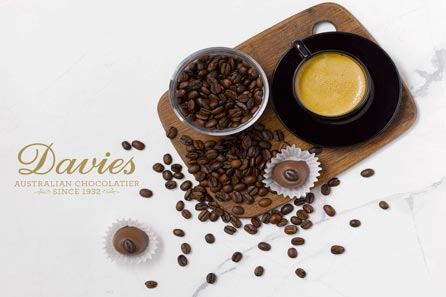 Method:
Preheat oven to 160°C. Line 48 1 1/2-tablespoon (30ml) capacity mini muffin pans with paper cases.
Combine the butter, water, sugar, coffee powder and chocolate in a small saucepan over low heat. Cook, stirring, for 3-4 minutes or until butter and chocolate melt and mixture is smooth. Remove from heat and set aside for 10 minutes to cool slightly.
Sift the combined flours and cocoa powder over the chocolate mixture. Add the hazelnut meal and use a balloon whisk to stir until just combined. Add the egg and Davies Coffee Creams and stir to combine. Spoon the mixture into the prepared patty cases. Bake in preheated oven for 10-12 minutes or until cooked through. Transfer to a wire rack to cool.
Meanwhile, combine the coffee and extra sugar in a small saucepan over medium heat. Cook, stirring, for 2 minutes or until sugar dissolves. Increase heat to high and bring to the boil. Cook for 2-3 minutes or until syrup thickens slightly. Remove from heat.
Spoon hot syrup over the cakes. Top with half a Davies Chocolates Coffee Cream and arrange on a platter to serve.
Our address
181 Kingsgrove Rd
Kingsgrove
NSW, Australia