Hampers & Baskets
If there's someone out there you've been dying to thank or to celebrate with, be they a friend, a relative or even a client or co-worker, then Davies has a very special way for you to do it.
Introducing Davies gift baskets and hampers. Available at Easter, Christmas, Valentines Day or when that special someone's birthday or anniversary rolls around. Don't have an occasion? Just want to say thank you to someone. Show them your appreciation with a chocolate-filled gift hamper from Davies – making delicious chocolate creations in Sydney since 1932.
Gluten free chocolates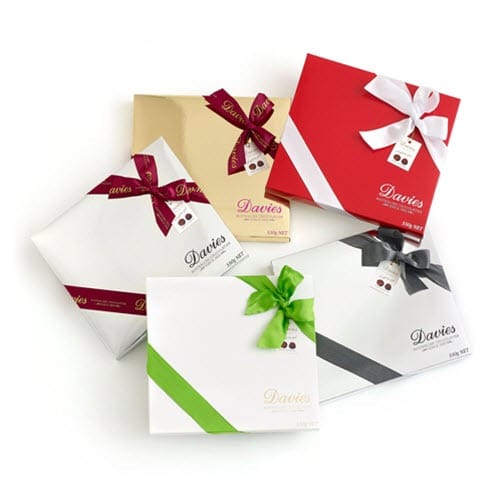 In recent years, many customers began asking us to cater for chocolate lovers who are gluten intolerant … And for a while, we were unfortunately unable to meet that request. We're happy to say that's changed! All the handmade chocolates sold on our website are gluten free!
How we made our chocolates gluten free
Traditionally, our handmade chocolate process used flour in dusting (as baker's do when making bread.) We sprinkled wheat flour to keep the newly formed chocolate centres from sticking to the trays.
Through experimentation, we succeeded in doing away with the flour dusting in our recipes, and thus were able to produce delicious, gluten-free chocolates!
Best of all – the same great chocolate taste we've become famous for hasn't changed! Our hand-made chocolates are still faithful to the original recipe… And they're delicious!