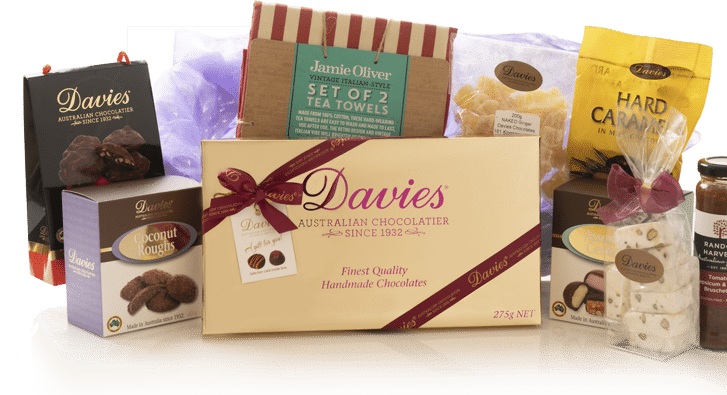 Sidney Davies started making chocolates from his home kitchen in 1932. Spurred on by a passionate belief in the handmade approach, he crafted together the most delicious assortment of fondants, hard centres, jellies and ginger, scrumptiously coated with only the finest chocolate.
From those humble beginnings, Sid expanded the business with the help of his son in law John Williams. The business was a great success, supplying 100's of golf, bowling, leagues, RSL and country clubs in NSW including the Governor at Government House.
Soon enough the men established for themselves a name as suppliers of fine quality, handmade chocolate using unique recipes and the best ingredients.
In the mid 1980's Margaret Kimber took over, growing the business through new and innovative pack design. In fact Davies Chocolates were the first to ever offer up picture boxes using Australian images to the market.
In the early 1990's, Margaret moved the factory to the existing site in Kingsgrove, where your chocolates are still made today.
More recently Davies Chocolates has been acquired by the Kowald family who bring a wealth of knowledge to the chocolate industry around product integrity and upholding the highest quality standards that Australian consumers demand such as sustainably, ethically sourced ingredients from Australian suppliers. The fusion of tradition and well-used machinery to modern day electronic equipment and process provide a lovely juxtaposition that results in even better chocolate.
Yet despite our growth, the emphasis has always been on retaining quality, hand crafted chocolates, using unique recipes and including all your favourites like dinner mints, caramels and ginger. In this way, we have been able to tweak the original recipes to deliver delicious gluten-free and palm-oil free gourmet chocolates