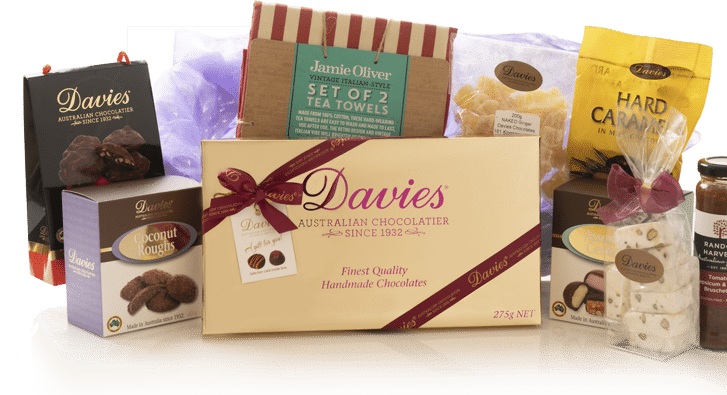 Davies Chocolate: Gluten-Free Handmade Chocolate
Chocolate is a classic gift, whether you're celebrating a birthday, mother's day, Easter, or any other holiday or special occasion. At Davies Chocolate, we believe everyone deserves to indulge in the silky textures and amazing flavours chocolate has to offer. That's why we're proud to announce that our hand-crafted chocolates are 100% gluten-free! Yes, ALL our chocolates are gluten-free!
Since our founding in 1932, people across Sydney and beyond have relied on Davies Chocolates for beautiful, handmade chocolate gifts. By making our chocolates gluten-free, we are able to let more Australians enjoy our delicious desserts than ever before. 
Why Make Chocolates Gluten-Free?
Many people have a sensitivity, intolerance, or full-blown allergy where ingesting gluten can lead to minor, moderate, or severe allergic reactions. Given that gluten is a popular ingredient in most desserts, those with a gluten allergy or Coeliac disease often end up being left out when it's time for cake at parties or chocolates on special occasions, because it is so hard to find gluten-free chocolates and treats, so guests often go without dessert altogether.
At Davies Chocolates, we care about making chocolate that everyone can enjoy, including those with Coeliac disease. Though many assume that Coeliac disease is the same as a gluten allergy, in fact it's an autoimmune disease. Coeliac disease is actually among the most common autoimmune diseases in the world, affecting an estimated one in 70 Australians – that's about 350,000 Australians who need gluten-free products.
We Never Sacrifice on Flavour
Worried that we only have one or two gluten-free options? Davies Chocolates is proud to have one of the best selections of gluten-free chocolate in Australia! With our original recipes and talented chefs, we're able to offer a diverse range of 100% gluten-free chocolates. 
Our many flavours include dark chocolate, milk chocolate, hard-centred chocolate, soft-centred chocolate, chocolate with nuts, and more and they are all gluten-free. You'll have no trouble finding the perfect assortment of chocolates for someone with Coeliac disease or any type of gluten sensitivity. 
An Amazing Way to Show You Care
There are several ways to personalise our gluten-free chocolates. You can pick out their individual flavours, the colour and size of the box, and so much more. We also offer pre-made chocolate arrangements, including chocolate gifts and hampers, which are handmade with care by our team. 
Our hand-crafted and hand-wrapped chocolates are sure to amaze your gift receiver. Not only will they love the taste and presentation of the chocolates, but they'll also be touched that you took their health into consideration.  
Choose Davies Chocolates for Gluten-Free Chocolate in Australia
Are you buying for a co-worker, friend, partner, or parent with a gluten allergy or gluten sensitivity.  They'll be very appreciative of a special chocolate gift from Davies Chocolates.  If you think our gluten-free chocolates may be the right gift for an upcoming celebration, we encourage you to place your order online today!  We'll ensure that your handmade gift is delivered to your door or as carefully and quickly as possible. 
If you have any questions about our hand-crafted chocolates, please don't hesitate to call. To get in touch with our friendly team, you can call +61 2 9502 2811, email chocolates@davieschocolates.com.au, or fill out our online enquiry form. You're also welcome to visit us in person in Kingsgrove NSW at 181 Kingsgrove Rd. We're closed on the weekend but open during the week from 8:30 a.m. to 4:30 p.m. We look forward to hearing from you.