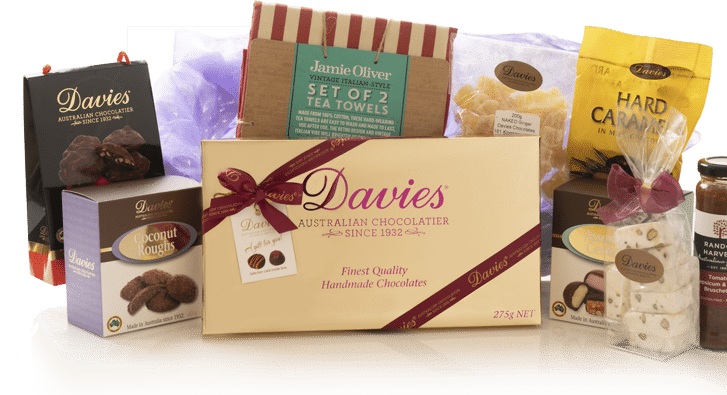 Delicious Gluten Free Chocolates, Palm Oil Free Chocolates
Sustainable handmade chocolates made with love in Sydney for Australia and the world!
Davies handmade chocolates are gluten free!!
We don't have any ingredients containing gluten in our chocolate factory. After purchasing the Davies Chocolate business, we found that the only "gluten containing ingredient" we used in making our delicious handmade chocolates was wheat flour. We used wheat flour like bakers and chefs and home cooks might use it on counter tops when they're rolling dough to "stop the stickiness" of the cooking counter's surface.
Say goodbye to gluten in chocolate!
So, we worked hard to reduce the stickiness of our fondant when we're making our chocolates. We were able to do that and eliminate the wheat flour gluten – and by extension the gluten – from all our chocolates without altering or compromising on the unique delicious Davies chocolate taste that's made this company famous since 1932.
We test for the absence of gluten in our chocolates twice a year
Davies tests twice a year its chocolates to make sure there is no gluten contained in the product and we also test in-house so we can provide a guarantee to our Australian and overseas chocolate fans that there is no gluten in our product.
Davies is for everyone
We're proud to answer the oft-asked question "are your chocolates gluten free" with an emphatic YES. It's our pleasure to extend the joy and enjoyment of our unique Davies chocolate taste to everyone. Give the gift of Davies' delicious handmade GLUTEN FREE chocolates to friends and family. Every chocolate in the box is gluten free… and absolutely yummy!
Davies Chocolates– Delicious Sydney handmade chocolates since 1932… And now gluten free!
Davies handcrafted chocolates are palm oil free!
Delicious Sydney handmade chocolates… that are also palm oil free!