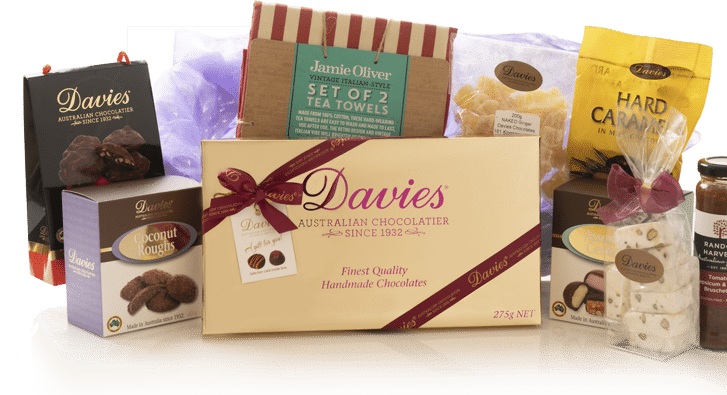 Delicious, Sustainable, Palm Oil Free and Gluten Free Chocolates
Sustainable handmade chocolates made with love in Sydney for every corner of Australia.

Davies Chocolates strives for sustainablity
Owners Noel and Jeanette Kowald aim to produce and deliver sustainable chocolate and give back to society as much as possible.  There are five key factors to that sustainability:
1. We've Gone Solar
We have covered our factory roof with 108 solar panels. This clean, renewable energy source contributes to meeting the electricity needs that we have.
2. The Davies Difference with Sustainable Chocolate
We only source chocolate that is made from Rainforest Alliance Certified cocoa, ensuring the ethical and sustainable trade of cocoa. This is key to sustainable chocolate. The Rainforest Alliance don't just work with farmers to help them make sustainable plantations, they help them improve their yield, and achieve for them a better price. That means that we are helping to support those farmers all the way through.

3. Say goodbye to palm oil in chocolate!
Here at Davies, we want to do our bit to make a difference. We are dedicated to producing palm oil-free chocolate. To completely avoid the use of palm oil, we temper all our chocolate and use technology to produce enough chocolate to keep everyone happy and meeting their chocolate quota.
4. Davies is made in Australia
We're proud to answer the oft-asked question "are all your chocolates made in Australia" with an emphatic YES. It's our pleasure to be an Aussie owned business making the product ourselves in our little factory in Sydney, Australia. By controlling the production directly, we are able to ensure that every handcrafted chocolate in the box is gluten free and palm oil free… and absolutely yummy!
We use Australian ingredients and natural ingredients wherever possible. That means that we're helping other Australian businesses to employ Australian workers as well. We believe that sustainability is crucial so we make sure that what we do contributes towards the future sustainability, not just of our business, but of the ecomony, the culture and the environment. .
5. Reinventing the classics with Australian and natural ingredients
When Noel and Jeanette Kowald took over Davies Chocolates, they thoroughly and thoughtfully studied the Davies Chocolates' recipes to review where Australian ingredients and natural ingredients could be used. They searched for Australian ingredients and suppliers that could deliver the classic Davies' flavours beloved by Australians for generations.
What is noteworthy here is Davies Chocolates supports local suppliers by depending on them to obtain the ingredients required. Davies Chocolates has an astounding 40 different chocolate treats in their seductively delicious portfolio. This means a challenging variety of colours, flavours and textures is required from local suppliers. Only a few additional ingredients are sourced from outside Australia in order to be faithful to the traditional recipes.
Choosing Davies Chocolates is supporting local
Whether you're buying for yourself, a family member, friend or client, proud Australians are sure to be extra appreciative of a special chocolate gift from Davies Chocolates. Remember, our Australian chocolates are also gluten free and palm oil free!  If you think our Aussie-made chocolates may be the right gift for an upcoming celebration, we encourage you to place your order online today! We'll ensure that your handcrafted gift is delivered to their door or as carefully and quickly as possible. 
If you have any questions about our hand-crafted chocolates, please don't hesitate to reach out. To get in touch with our friendly team, you can call +61 2 9502 2811, email chocolates@davieschocolates.com.au, or fill out our online enquiry form. And when lockdown restrictions ease, you're also welcome to visit us in person in Kingsgrove NSW at 181 Kingsgrove Rd. We're closed on the weekend but open during the week from 8:30 a.m. to 4:30 p.m. We look forward to hearing from you. 
Davies Chocolates– Delicious Sydney handmade chocolates since 1932… sustainable and gluten free!
At Davies chocolates, everything we do is about sustainability of our business of the environment, and the people around us. Without those things, we're not going to leave a legacy for our children and grandchildren that is meaningful.